Join a Luxury Class A Motorcoach Community
Resort Map
Joining together an over 856 acres resort and a luxury Class A motorcoach ownership community, owners enjoy a new level of outdoor living with true five star amenities.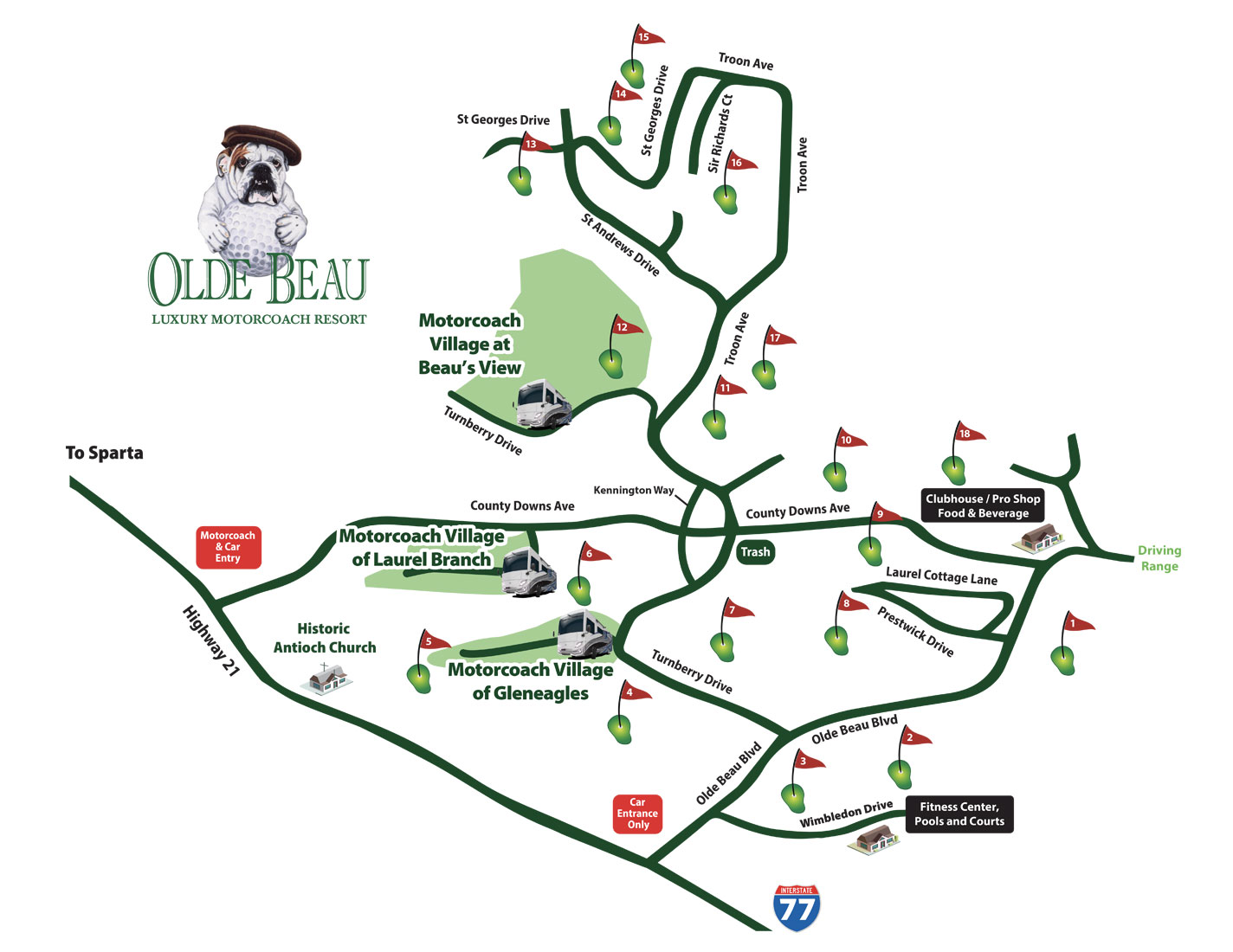 Testimonials
My wife and I first visited the Olde Beau Motorcoach Resort in May 2019. We found the amenities to be first class and the Country Club restaurant to be a Five Star experience. In July we joined the Olde Beau community with the purchase of a lot in the Motorcoach Resort and have already made great friends.
We are so pleased to be a part of the new motorcoach resort at Olde Beau. The community, people, and beauty of this part of the country and Blue Ridge Mountains are second to none. We love the remote feeling of being in the mountains close to the Blue Ridge Parkway and the New River, but appreciate being such a short distance from I-77 when we are ready to travel in our RV. The option to build a coach house on our lot makes this the perfect place for entertaining and making lifelong memories with family and friends.
My wife and I were looking for an RV site on a golf course for the summer months and fell in love with Olde Beau at first sight!. Besides the great golf, food and amenities, the people who live there greeted us warmly and invite everyone to join in all the community activities. The elevation keeps the summers pleasant and you can enjoy being there in the spring as well as staying for the beautiful fall foliage.
We stayed in one of the resort cottages and played the golf course. The cottage was great and the golf course was in great condition. The cottage was located on the 18th hole and the view was spectacular from the deck.
My husband and I have called Olde Beau home for 24 years. Wonderful restaurant, beautiful golf corse, the back nine is a real challenge. Views from many Tee boxes are breathtaking.
Wonderful place! Just beautiful. Gorgeous golf course. You'll have to try the chiefs special carrot cake, delicious!
We visited Olde Beau during the fall, the weekend before Halloween to be exact, and it was breathtakingly beautiful. You cannot beat the views, the freshness of the mountain air, or the pure peacefulness of it all.